Select Essential is proud to confirm its acquisition of Fire Security Services.
28 September 2021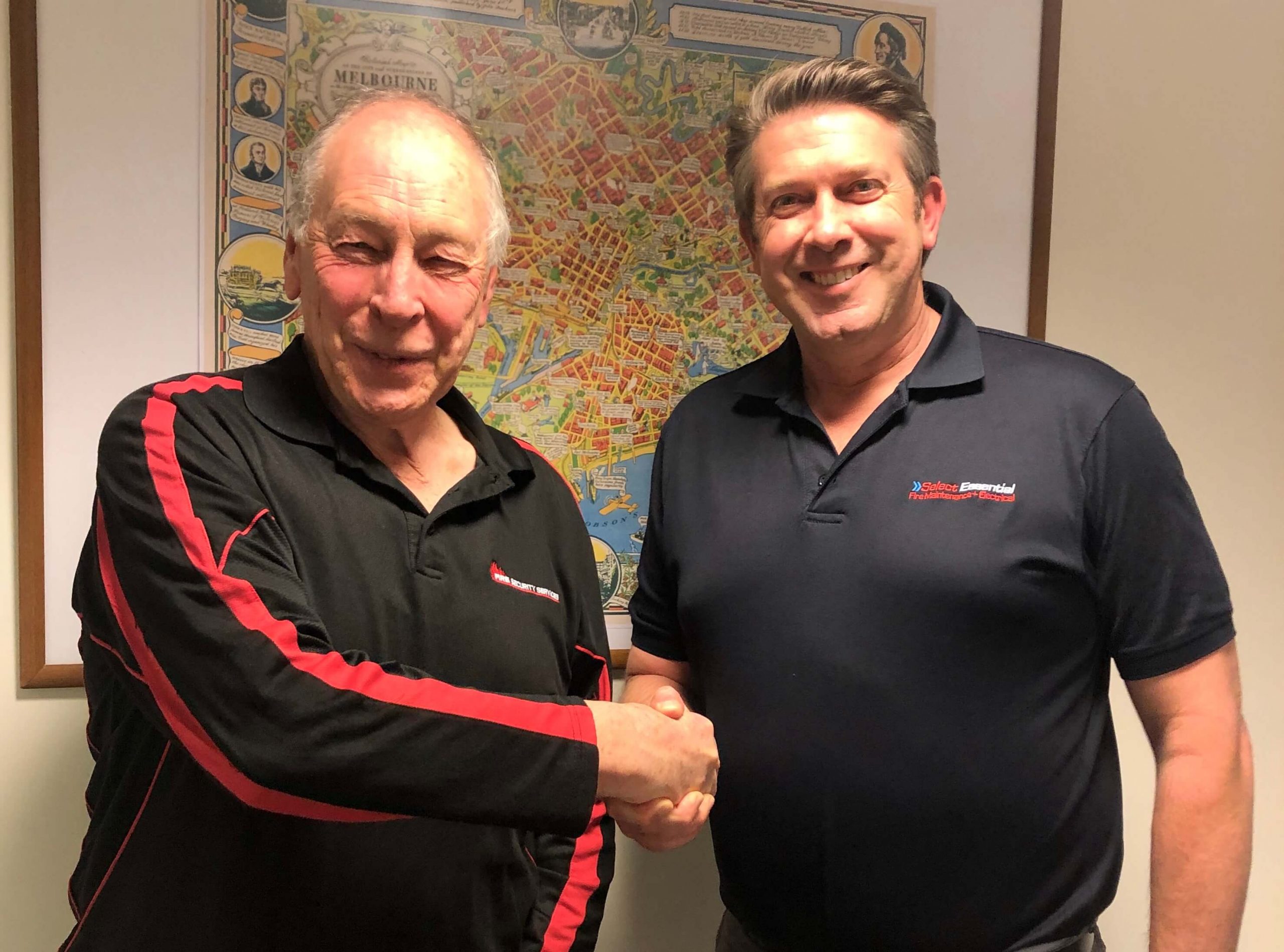 A Word From Fire Security Services Founder and Director, David Nathan...
After a lifetime in the industry, I am retiring on the 30th of September. As such, I'm excited to announce that from the 1st of October, FIRE SECURITY SERVICES has been acquired by SELECT ESSENTIAL P/L, a long established and leading Victorian provider of Essential Services & Building Compliance.
What does this mean for you?
On a day-to-day basis, it's business as usual, only now we have more resources and capabilities to continue driving value and a greater range of services with a single contact point for service and compliance available.
The same technicians who already understand your site-specific requirements, driving the same vehicles and using the same data gathering systems will still be calling every week or month as they do now to ensure no interruption to your compliance requirements.
Above all, as both organizations have been operating on the same software platform for several years, a seamless transition of data between the two will be created and ensure all historical service records built up over the last 24-years will still be available to technicians so that future inspections and servicing are most efficient.
What does this mean for us?
All our staff are now a part of the Select Essential family and will continue to support our Fire Security Services clients under the Select Essential banner.
We have chosen to join the Select Essential group to accomplish greater efficiencies in the delivery of Fire Protection and Essential Services – and to provide additional opportunities for our people.
Our story continues…
Joining forces with a company as committed as Fire Security Services, is what takes us into the next chapter in our storybook.
Select Essential have a very similar customer centric focus, values, culture, and ambitions as Fire Security Services and for this reason the two businesses are very compatible.
Thank you!
We would like to extend a special thanks to all our customers who have supported us over the last 24-years and allowed us to build a business which is well respected in the Fire Protection and Essential Services sector.
I want to take this opportunity to personally thank each and every one of you for putting your trust in us over the last 24 years and bringing us to where we are today. Our staff are driven to make Fire Protection and Essential Services better and easier for you.
This commitment is continuing during this exciting time!
A Word From Our Managing Director, Sai Dale...
Following Mr David Nathan's introduction, we are proud to confirm our acquisition of Fire Security Services.
Select Essential was established in 2007 and has continued to provide an exceptional customer service- based business to a long list of key clients. The business is headed by husband-and-wife team Sai and Karen Dale, working with an outstanding group of employees to best serve their clients time and time again.
Select Essential offer a wide range of services under the 'essential services' banner as well as electrical contracting.
With everything covered from fire sprinklers to fire detection systems right through to fire extinguishers, fire doors and passive fire protection. We are also able to issue clients an Annual Essential Safety Measures Report (AESMR) to ensure overall building compliance.
As all business operations conducted by Fire Security Services transition over to Select Essential, there is a guarantee that nothing will change for you as a client. We value your ongoing support and will ensure that business continues to operate 'as normal'.
The same familiar technicians will continue to service your fire systems as they have in the past.
There will of course be some minor changes, such as points of contact for when you need to request a Service Call or make an enquiry (which are listed below).
Please note these changes for all future enquiries.
Office Phone: 1300 784 167 (24/7 – after hours calls are routed through to a relevant technician)
Any service enquires by email – info@selectessential.com.au
Any accounts enquiries by email – accounts@selectessential.com.au
Sai Dale – Managing Director sai@selectessential.com.au
Beau Hannan – General Manager beau@selectessential.com.au
Jenny Stephens – Essential Services Manager jenny@selectessential.com.au
Darren Boyd – Electrical/Operations Manager darren@selectessential.com.au
Karen Dale – Financial Controller – karen@selectessential.com.au
Thank you for your ongoing support and we look forward to hearing from you in the very near future.